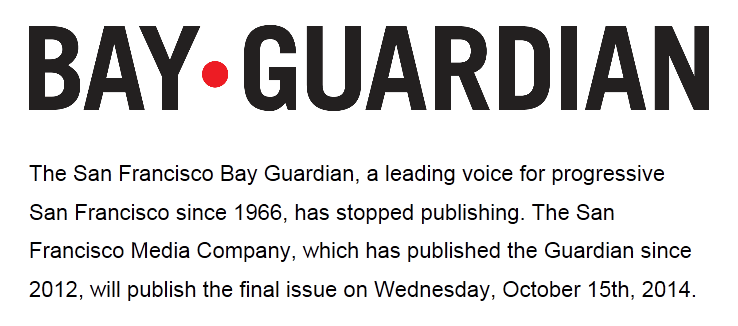 A "leading voice for progressive San Francisco since 1966," the San Francisco Bay Guardian is being shuttered by its parent company and the paper will circulate its final issue tomorrow.  From the publication's farewell, all that remains on the Bay Guardian's site:
As a company, we are proud of the SF Bay Guardian's legacy as a community watchdog, a publication with stellar reporting and its passion to push for a better city. It gave a voice to many in the city who might have been otherwise shut out of the corridors of power, kept countless city leaders honest and inspired a new breed of journalism across the nation.

We say good-bye to a member of our media family and to an institution that has been a vital advocate for its vision for San Francisco for nearly half a century. The Guardian leaves San Francisco a better city for the role it has played in shaping it these last decades.
While likely commentary on the current economics of journalism as much as, if not more than, anything else, the loss of the publication speaks to the rapidly changing dynamics of San Francisco as well.  Feel free to let us know what you hear.