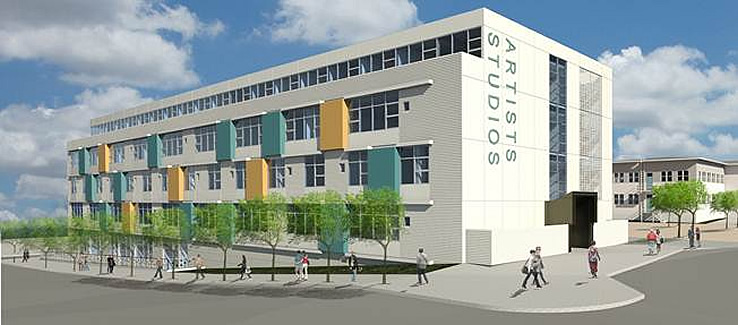 Plans to construct an 89,000-square-foot building for artists displaced by Lennar's San Francisco Shipyard development at Hunters Point have been approved by the City and construction is slated to start in the second quarter of 2015.
The $30 million building will include new studio space for nearly 150 artists along with a 1,600-square-foot gallery and sound-proofed spaces for musicians.  The building will be located adjacent to historic Building 101 which currently serves 150 artists itself and is part of "America's largest artist colony," The Point.
Designed to be affordable, studio rental rates will be set to simply cover operating costs and are projected to be around $1.11 per square foot when the building opens in mid-2016, versus current rents of up to $3.50 per square for comparable spaces in San Francisco.
Solar panels atop the building and operable windows will help keep operating costs low in perpetuity.