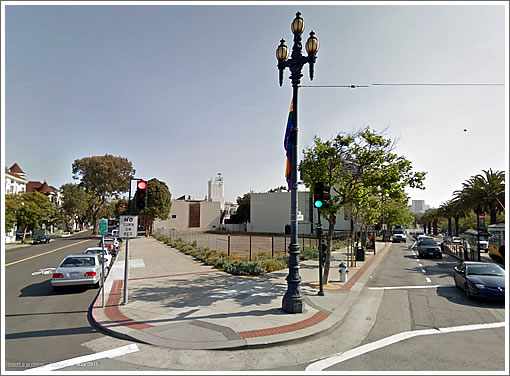 The Site: 2198 Market Street, the triangular shaped lot at the corner of Market and Sanchez Streets which was once a Shell gas station, was rezoned as part of the Market and Octavia Area Plan, and most recently served as a Delaney Street Christmas tree lot.
The Plan: As proposed, a mixed-use building with a height of 65 feet along Market Street and a town house-style structure with a height of 45 feet along Sanchez will rise on the site with a private courtyard at the center of the lot. The project would contain 85 dwelling units, 36 below grade off-street parking spaces, 87 bicycle spaces and 4,745 gross square-feet of ground floor retail space along the Market Street frontage.
Planning's preliminary response to a proposed 22 foot wide garage door on Sanchez Street: "Please reduce the width of the garage door to no more than 12 feet." Planning also recommends a reduction in the parking footprint by employing stackers.
If approved, the development would also yield 11 new street trees along Sanchez Street.
∙ Market-Octavia Plan And Requisite Rezoning Approved By The Board [SocketSite]