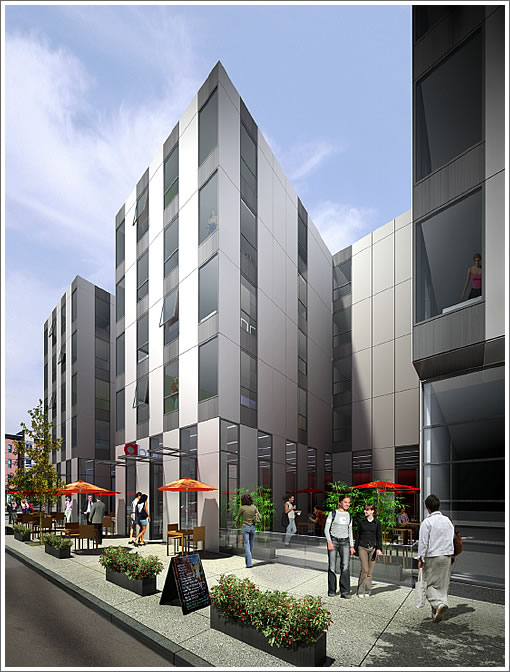 As the five-story Stanley Saitowitz | Natoma Architects designed building that's proposed to rise at 1501 15th Street raises the hackles of a few hecklers in the Mission, we offer a bit of additional background and perspective.
In 2008, the project sponsor proposed to build a car wash, not condos, on the site. Noting that "due to the project site's close proximity to the 16th Street BART Station, a mixed-use project offering both commercial and residential uses would be strongly encouraged," the car wash was disapproved by San Francisco's Planning Department on the grounds that such a use was inconsistent with the intent of the Eastern Neighborhoods plan.
And in terms of the project's proposed design, while the Planning Department "realizes that from the architect's perspective, the design is very cohesive and deliberate, forming a minimalist façade" and acknowledges that "any attempts to change it would [therefore] compromise the integrity of the design," the Department still has a few concerns:
If the courtyards remain, in all likelihood gates will be needed to secure the outdoor activity areas after the retailers close in the evening. [Planning] would like to see the proposed treatment to address this issue in the design.
The Department would like to see the use of the neighboring property's light-well preserved, such as matching the light-well.
The recessed wall on South Van Ness Ave. presents a blank wall above the ground floor and should have additional detail and fenestration to provide scale and interest.
Save the few concerns, however, the Planning Department recommends the Planning Commission approve the project sponsor's proposal on Thursday. And yes, for better or worse, the design has evolved from what was originally on the boards: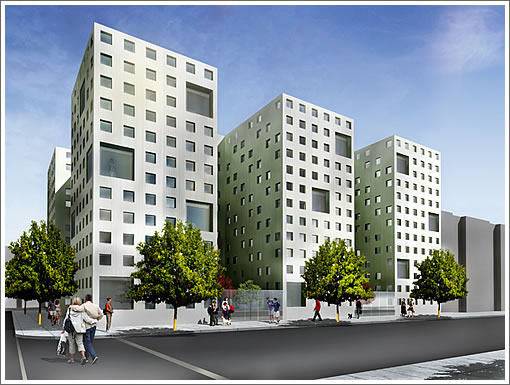 ∙ 1501 15th Street Now And As Proposed [SocketSite]
∙ Development at 15th and S. Van Ness Raises Hackles [missionlocal.org]
∙ Eastern Neighborhoods Plan, It's Not Just For Policy Wonks Anymore [SocketSite]
∙ 1501 15th Street Request for Large Project Authorization [sfplanning.org]