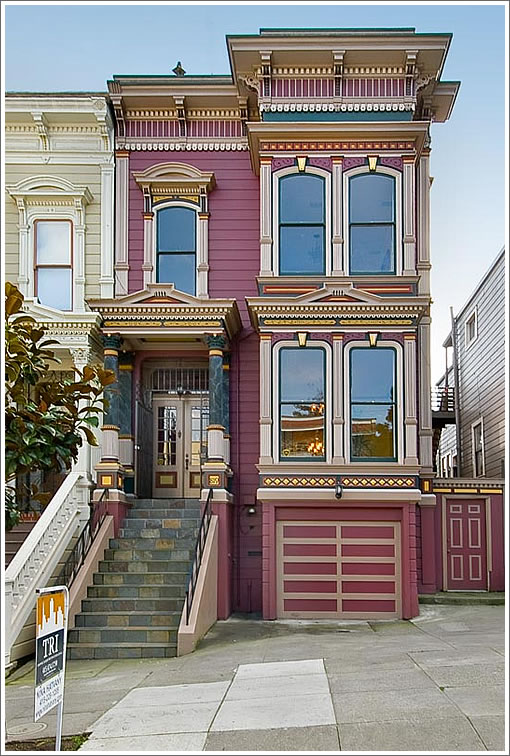 Sold for $1,635,000 in August 2005 having been listed for $1,395,000, this past Friday the re-sale of 819 Haight Street closed escrow with a reported contract price of $1,380,000 (15.6% under its 2005 sale) having been listed for $1,595,000 a year ago.
As a plugged-in reader wrote about the property two weeks ago:
The posts that comment on the costs to add bathrooms are probably right, particularly given the finishes on this house. Some of the best possible materials were chosen throughout–tile, fixtures, etc. The front porch is an aberration. A quick fix prior to the sale in 2005, replacing even more inappropriate and very damaged Spanish tiles.
As for the neighborhood, that block is entirely residential, with the exception of Zephyr. There are several families on the street who enjoy the proximity of Duboce and the dog park up the street. It's a very walkable neighborhood, and contrary to the suggestions above, safe. You might find graffiti on your trashcans, but aside from that, no car break ins or the usual petty things you'd expect. (Petty criminals don't like hills.)
We'd buy it. Again. But then, we'd be buying it for less than we sold it for in 2005, so we'd consider it a bargain. 😉
Keep in mind that competitive bids were more the rule than exception in San Francisco circa 2005. And as soon as a property sold, it became a comp for the next sale. And so on. And so forth.
∙ A Four Year Hold For A Renovated 819 Haight: A Winner's Return [SocketSite]
∙ 819 Haight Street's Return Redux: Winner's Curse In Action? [SocketSite]
∙ A Winner's Curse That Has Yet To Be Cured [SocketSite]