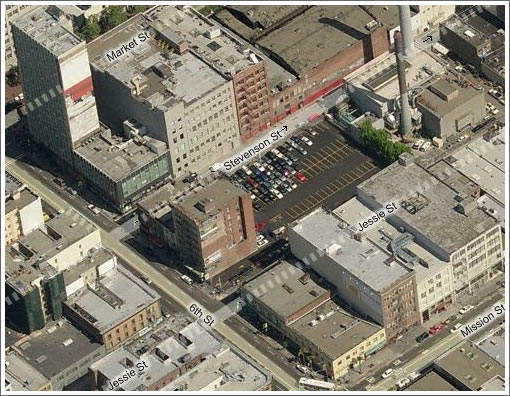 A reader asks:
"I understand that a new 15-story hotel with ground floor retail is being planned in the vicinity of 6th and Jessie. Do you know any more about this? The rumor is also that the public is being invited to comment this month."
Unfortunately we can't answer (hey, it happens). It is, however, hard not to notice that big old surface area parking lot and adjoining empty lot. Readers?
UPDATE: Cheers to the plugged-in readers who nailed the answer: 942 Mission (between 5th and 6th). As proposed, a 13 (or 15 depending upon the source) story hotel with 7,840 (or 3,240) square feet of ground floor retail and 165 (or 172) rooms.