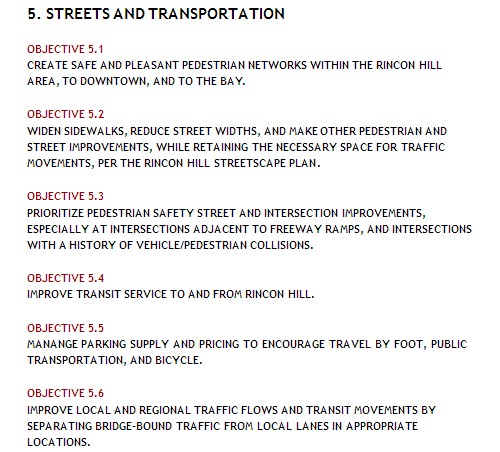 First and foremost, let's just say that we're huge fans of the proposed plans (and work in progress) for Rincon Hill. We love living in urban neighborhoods that allow our cars to sit idle save a weekend jaunt out of town. And we honestly believe that Rincon Hill has the potential to become an iconic urban neighborhood.
The Rincon Hill Plan aims to transform Rincon Hill into a mixed-use downtown neighborhood with a significant housing presence, while providing the full range of services and amenities that support urban living. This plan will set the stage for Rincon Hill to become home to as many as 10,000 new residents.
Rincon Hill is a five minute walk from the financial district. It has easy access to public transit and has benefited from the Rincon Point-South Beach redevelopment project on the southeastern waterfront, particularly the construction of the Waterfront Promenade along the Embarcadero, and will benefit from the Transbay redevelopment project to the north of Folsom Street.
As part of the Area Plan, a streetscape plan "calls for extensive sidewalk widenings, tree plantings, street furniture, and the creation of new public spaces along streets throughout the district." And that's great. Especially considering that the plan currently characterizes "Rincon Hill's streets [as] unsafe and unpleasant for pedestrians—sidewalks are narrow, intersection crossings dangerous, and few active uses line the sidewalk edge."
But folks, we haven't seen, read, or heard anything to suggest that street traffic in the area is going to get any better. Yes, "Objective 5.6" in the Area Plan calls for "[improving] local and regional traffic flows and transit movements by separating bridge-bound traffic from local lanes in appropriate locations." But that's about it. And the First Street on-ramp to the Bay Bridge isn't going anywhere anytime soon.
In fact, based on all the new development, we'd be willing to bet that traffic congestion in the area ends up getting worse. And while that's probably not such a great thing for those who are wed to commuting by car, it's probably not such a big deal for residents who enjoy hoofing it in an urban environment, or for non-residents who can manage public transportation.
∙ The Future Of Rincon/Transbay [SocketSite]
∙ Area Plan: Rincon Hill [SFGov.org]